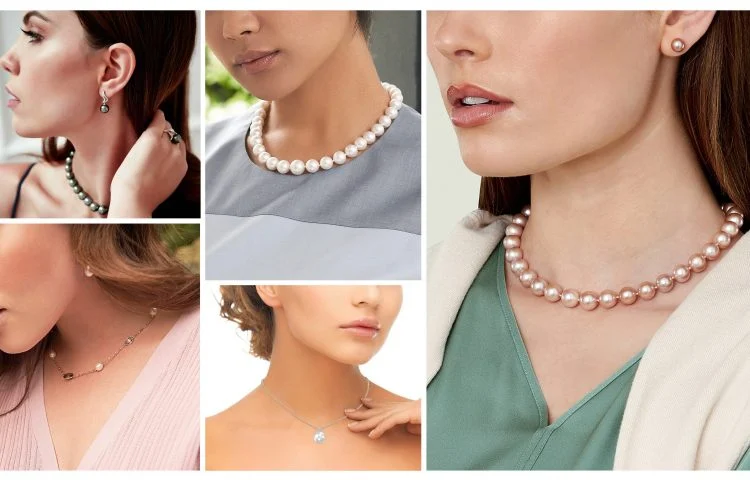 We often forget that pearls are just a gem because the history of pearls means that it has entered a league of its own​​. I'm sure you'll agree with me that it's as much a jewelry box must-have as diamonds, cocktail rings, and hoop earrings.
Of all the ways to wear pearls, nothing has stood the test of time more than a pearl necklace. They never go out of style and most women will own at least one pearl necklace in their lifetime.
but:
Pearl necklaces can be difficult to wear, especially in your daily wardrobe, so let's debunk the rules for wearing pearl necklaces. 
How to Wear a Pearl Necklace
When you hear "pearl necklace," the classic pearl chain usually comes to mind. These look a little traditional, but pearl necklaces are more versatile than you might think. There are many ways to rethink pearl necklaces. You can experiment with pearl colors, lengths, and styles to find a necklace that will elevate your look.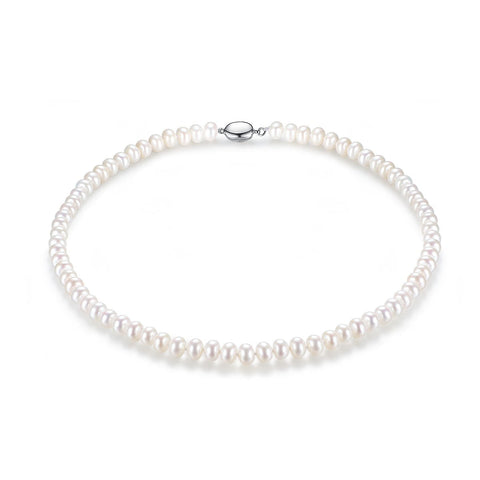 Hit the Right Length
If you like classic chains, then you can adjust the length as you like to get the perfect pearl necklace. Different lengths are suitable for different occasions and different body types.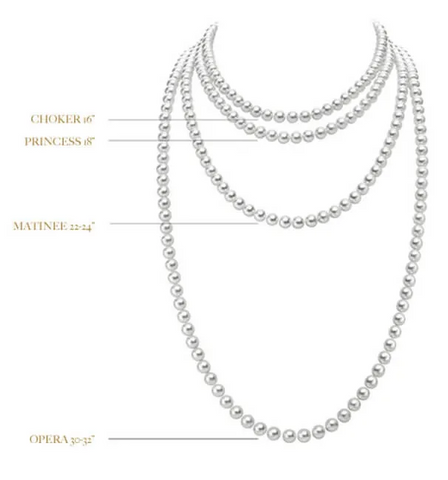 Pearl Necklace Length
A choker necklace or princess long necklace looks cool and easy-going with a lace-up top or a Bardot top. You can wear it on formal occasions or with a casual top and jeans.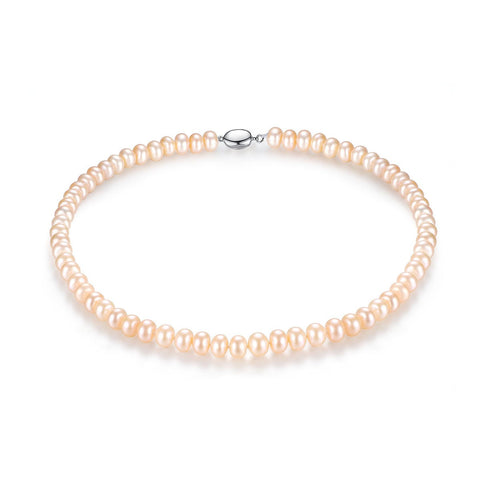 Matinee (22-24 inches) is a length between formal and casual. If you want to wear a pearl necklace in the office, this is the perfect necklace length to wear with a suit or work clothes.
However, if you plan to throw yourself in the deep end, opt for an opera-length necklace. These are usually over 30 inches long. The secret to wearing an opera-inspired pearl necklace is choosing the length that suits your body type. Especially when it comes to busts, ladies.
If you are on the larger side, an opera necklace that is too short will make you appear shorter. Choose a length above 36 inches, which will elongate your figure and give the illusion that you are a little taller.
For women who are petite in this regard, the best opera length necklace is 30 inches; anything longer will look too long on you. You can also layer opera lengths for a multi-strand necklace perfect for day wear. Make a necklace, but with two very different looks.
Choose Your Pearl Size and Shape
Pearl size is just another way to design a pearl necklace to suit your outfit and look.
Gradient sizes are pretty cool, and when you think about how natural pearls are made and cultured, you have to choose very carefully based on their size and shape. Gradient pearls can elongate the body, because the perspective of pearl necklaces is different from close and far.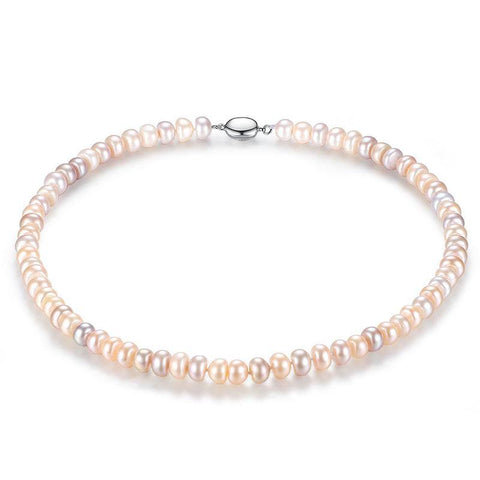 Resizing pearls is just one way to change up this classic piece of jewelry, but you can also look for pearl necklaces with one large pearl instead of many.
If you're looking for something a little more sculptural, oversized pearls are ideal, as they're better as a single stone on a long pendant necklace or statement stone on a short necklace.
Pearls also don't have to be spherical, they can be oval and organic; these are called baroque and conch pearls. This natural asymmetry of these pearls ties their shape and creation to the ocean.
Conch pearls are natural oval pink pearls with a lustrous appearance and shine throughout the stone. The natural formation of these pink pearls makes them extremely rare and coveted.
Pearls come in many shapes and sizes, but they may come in the color of your dreams; including pink, black, and gold.
Even white pearls can look very different. Some come in shades of yellow or gray, which means you can pick up pearl necklaces to complement your skin tone and existing jewelry.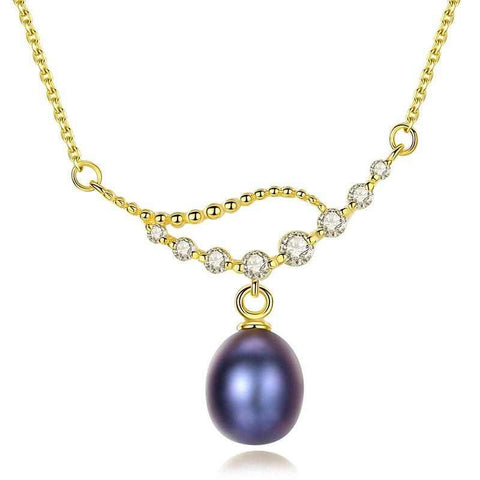 If you have a warm skin tone, then yellow, brown, ivory or champagne pearls are your best friend. Generally, those with warmer skin tones prefer gold.
If you have a cool skin tone, silver and platinum jewelry are more likely to be your go-to colors. In this case, grays, whites, metallics, and blue sheens will complement the cool look of silver; think of anything that looks a little icy.
Not Your Grandmother's Pearls
If you are still thinking:
This is all good, but pearls are too ladylike for my taste, so there are a lot of pearl necklaces that break all the rules. This style of pearl necklace is clearly different from your everyday necklace.
As pearl necklaces became more playful and edgy, they incorporated design features such as unusual cuts and embellishments such as spikes and shark teeth.
Mother of pearl flats are another way to wear a pearl necklace without a pearl chain. This trend continues every year, with more and more designers using flat pearls to create a striking modern twist on this classic gem.
Another trendy style is the necklace known as the shaker - made using crushed pearl fragments, the shaker consists of loose stones in a locket. In case you didn't know, pearls are the birthstone of June, which makes this design perfect for June babies who have been waiting for something different to catch their eye.
The beauty of pearl necklaces is that you can wear them for any occasion as they come in many styles and designs.
Match Earrings with a Pearl Necklace
Finding the right earrings to match with a pearl necklace can be awkward. Not everything goes with pearls, and if you can't find the right combination, your jewelry might look a little messy. The style of the pearl necklace doesn't dictate what earrings you can wear, but it certainly has a big impact.
The best match is the pearl earrings. Pearl studs and drop earrings are great for formal occasions. If you want to try something a little different, black pearl stud earrings with rich dark shades can be contrasted with a white pearl necklace.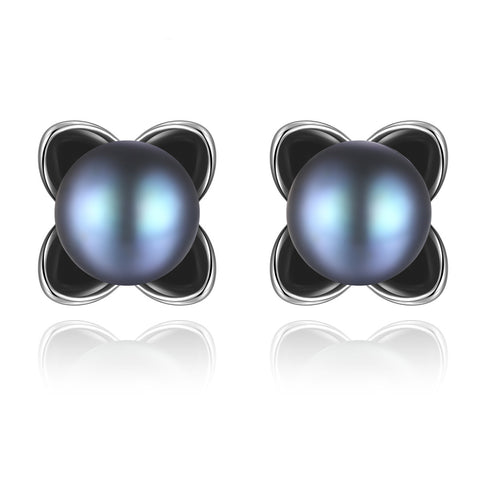 Actually, the black pearls known as Tahitian pearls are not really jet black. They come in shades of purple, green and blue, giving your jewelry real depth and detail. If you like the sound, gold and other colored pearl stud earrings will also look exotic and different.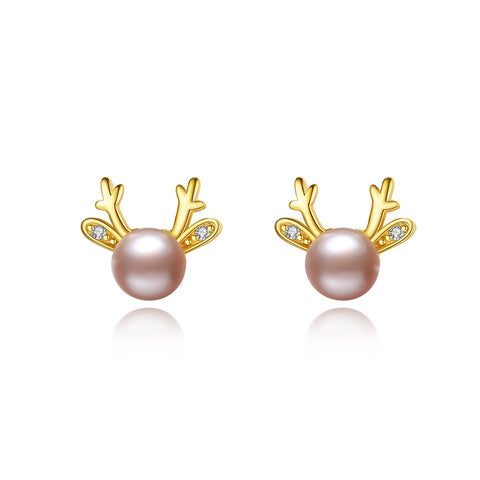 If you want to buy yourself a pair of pearl earrings in order to match your pearl drop necklace, don't forget to bring your necklace with you when shopping. This will help you compare pearl styles and colors for a good match. Unless you buy a set or pair of synthetics from a jeweler, you're unlikely to get a perfect match.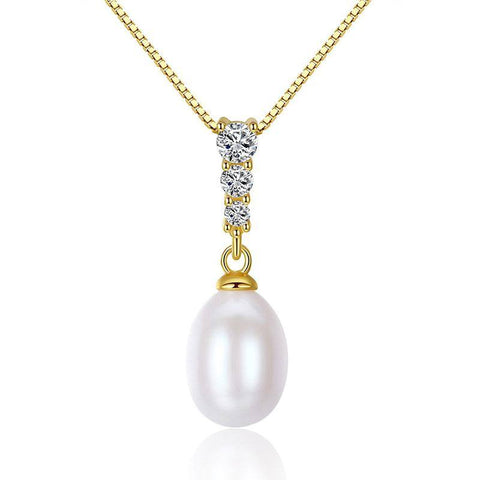 However, this is exactly what makes pearls so romantic and so popular with vintage lovers. The subtle differences between pieces tell a story and make jewelry look more expensive because pearls look real.
The simple combination of pearl earrings and necklaces looks very feminine and sophisticated, but can be a little too "matching" for some. If the pearl necklace is a string of pearls, you might want something a little more interesting to keep your jewelry looking modern. If you like to keep your look simple and sophisticated, diamond stud earrings are considered to be the little black dress of the jewelry world. A touch of shimmer will perfectly contrast the luster of the pearl.
How to Wear Pearls on a Black Dress
We want to thank Coco Chanel for creating the black dress and pearl combo. This monochromatic contrast of pearl white and black is stylish and romantic, and very classic.
A large opera-inspired necklace works best with a simple black dress without patterns or details like lace. You can layer opera necklaces for a multi-strand look or knot the necklace for a nod to a vintage look. Keep your earrings discreet and choose matching studs or other minimalist styles to complete the outfit.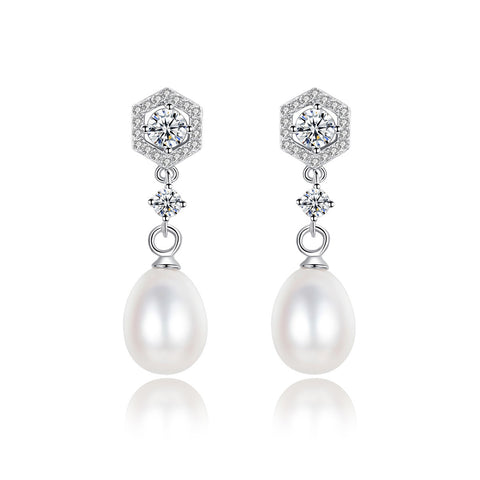 If the black dress has its own details, such as ruffles, or is made of fabrics such as brocade, then a short or medium length necklace will work best. Shorter necklaces also look great if your dress is off-the-shoulder or has lace-up sleeves. Take inspiration from the red carpet and see how celebrities have paired their pearl necklaces with black dresses.
These are good rules to follow for formal occasions, but what about casual and everyday black dresses?
Use the neckline of everyday dresses to help you choose a pearl necklace. The crew neck is perfect with a single strand of pearls 16-18 inches long. This will fit neatly along the neckline of your dress without looking too formal. If you want to wear something with a V-neck or low neckline, a 18-20 inch double-strand will look ladylike without being too dressy.
The pearl pendant necklace, a single pearl charm, will be an easy addition to any black dress during the day as you can wear it like any other pendant necklace.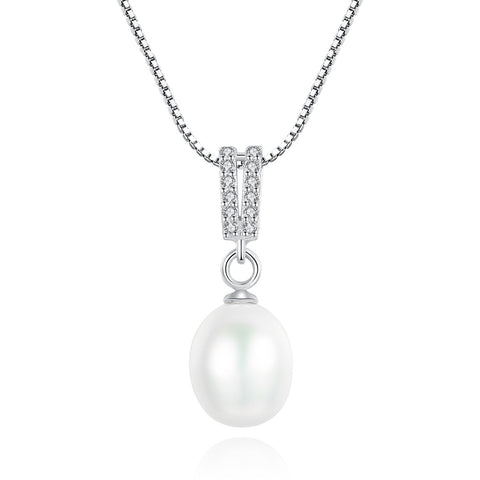 Bottom line...
Hopefully you now know that pearls aren't just for formal occasions; you can wear them during the day, at work, or anywhere.
Remember, the secret to wearing a pearl necklace is to consider the color, luster and tone of the pearls and choose the necklace length to complement your outfit and body type.
If you haven't already, it's time to invest in a good pearl necklace! It never goes out of style!