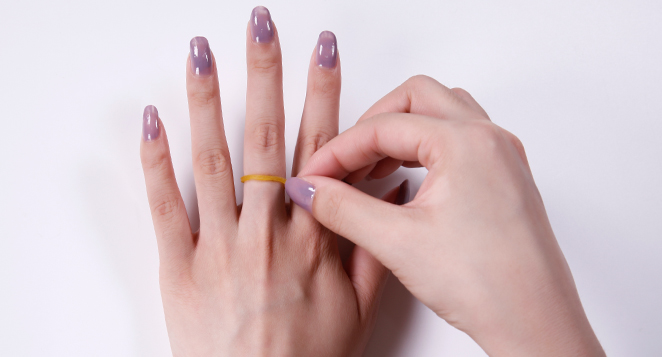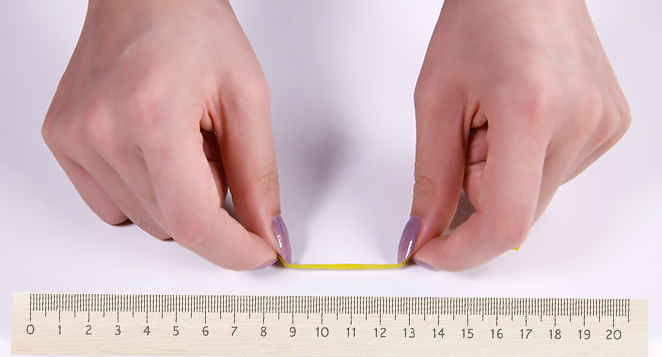 (Note: We use US size for our rings) This is a chart that will be extremely helpful for you to determine the ring size that you need. You can either make use of a tape or a small piece of string to measure the area that will be occupied by the ring. When it becomes a complete circle, make a mark on such string, this will be your Inside Circumference.
Measure the size of a ring you have: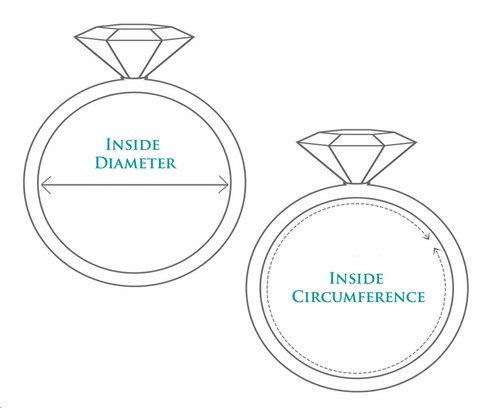 The above methods will be helpful for you to compare with the chart that is mentioned below.
Inside Diameter

(Measure a ring)

Inside Circumference

(Measure your finger)

SIZE
MM
MM

US/CA

(our sizes)

UK/AU
Asia/Japan
Europe/Italy
14.9
46.8
4
H
7
6.75
15.3
48
4.5
I
8
8
15.7
49.3
5
J-½
9
9.25
16.1
50.6
5.5
K-½
10
10.5
16.5
51.9
6
L-½
11
11.75
16.9
53.1
6.5
M-½
13
13.25
17.3
54.4
7
N-½
14
14.5
17.7
55.7
7.5
O-½
15
15.75
18.1
57
8
P-½
16
17
18.5
58.3
8.5
Q-½
17
18.25
19
59.5
9
R-½
18
19.5
19.4
60.8
9.5
S-½
19
20.75
19.8
62.1
10
T-½
20
22
20.2
63.4
10.5
U-½
22
23.25
20.6
64.6
11
V-½
23
24.75
21
65.9
11.5
W-½
24
26
21.4
67.2
12
X-½
25
27.25
21.8
68.5
12.5
Z
26
28.5
OTHER TIPS
1) *Measure your finger in warm temperatures at the end of the day.
2) *If your knuckle is a lot larger than the base of your finger,measure both the base of your finger and your knuckle and select a size between the two.
3) *When considering a wide band, move up a size from your measurement, for comfort's sake.
Bracelet Length
Inches
5.5
5.9
6.3
6.7
7.1
7.5
7.9
8.3
8.7
cm
14
15
16
17
18
19
20
21
22
We have already listed some steps for you to choose your right size bracelets.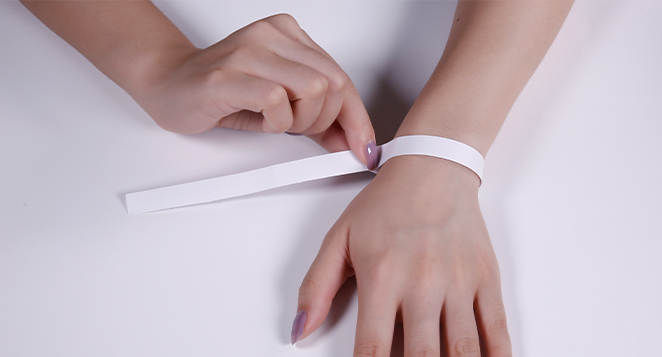 Step 1: Use the tape measure or a strip of paper to measure your wrist.
Just wrap the soft tape measure around the broadest part of your wrist and take note of the length. If you are using a plain strip of paper, mark your size with a pen or pencil then use a ruler to measure the length (The starting end of the paper must be at the base of the ruler and marked 0). That would be your wrist size.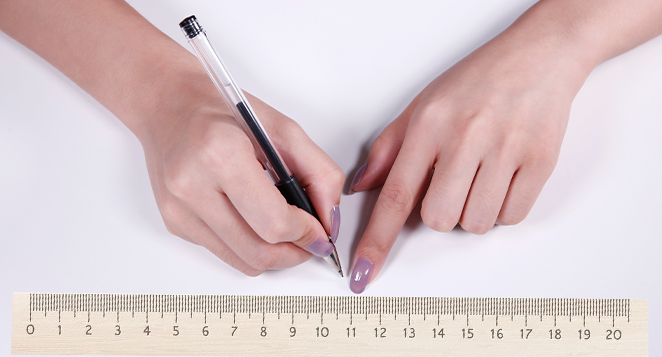 Step 2: Add one inch, or 2.5 centimeters, onto this measurement to get the final length of your bracelets.
Please make sure there's enough space to tuck in 2 fingers as this is the space you need to add the charms. If you want to add less than seven charms, add 2 centimeters are ok. If you plan to wear eight or more charms, please add 3 centimeters. If you purchase a bangle, just choose the next size from your actual wrist measurement.
Notes:
1. A bracelet is perfectly sized when you measure your wrist tightly and add 2 or 3 cm.
2. If you are between sizes, ask yourself how you like to wear your bracelet. If you wear it tightly choose the smaller size and if you like to wear it loosely take the next size up.
3. Please be aware that when you receive a new bracelet it will feel stiff, which can make it uncomfortably tight. The bracelet will quickly soften and become more flexible as you wear it.
4. Bear in mind that the more charms you add to your bracelets, the tighter it will become.
 

You probably have a go-to necklace length and style that you love. But, have you ever thought about whether or not those necklaces are complimenting your face shape? If you're like me you're more concerned with making sure it works well with your clothing choice as opposed to your face shape. Wearing necklace styles that suit you best can help in ways you probably haven't considered such as elongating/shortening your face and neck. Learn about the various necklace lengths and then scroll to your face shape to find out your best look.

 
Necklace Lengths Guide
| | | | |
| --- | --- | --- | --- |
|  Style | Length(Inches) | Length(cm) | Fit |
| Collar | 14" | 35cm | Tightly around the neck |
| Choker | 16" | 40cm | At the base of the throat |
| Princess | 18" | 45cm | Lays on the collarbone |
| Matinee | 20" | 50cm | Reaches just pass the collarbone |
| Opera | 22" | 55cm | Falls at or just above the top of the bust |
| Rope | 24" | 61cm | Sits around the center of the bust |
| Rope | 30" | 76cm | Drapes below the bust/td> |
Face Shape - Necklaces that Compliment
Credit: iStock
Oval
The most versatile shape for wearing jewelry, including necklaces. Since nearly all necklace lengths work well with oval faces, necklace lengths chosen should compliment the neckline worn.
Round
In order to lengthen the neck and create angles, any necklace length shorter than a matinee should be avoided entirely. These will make your throat look wider and your neck shorter. Longer necklaces are the way to go and pendant styles are even better. Pendant styles help create a triangular look to lengthen and add angles to your face.
Rectangular/Oblong
Your goal with this face shape is to shorten the appearance and create a more oval shape. In order to achieve that, shorter necklaces work best. Anything from collar to princess (12"-16") is ideal. Since horizontal looks are best for this face shape, large pendant necklaces are best avoided.
Square
In order to soften the jaw line and elongate the face, length is imperative. Longer necklaces, matinee and opera lengths, work best with this shape and soft lines, necklaces that naturally fall into a soft U, work even better. Plain pendant styles won't work well because of the triangular appearance it creates.
Heart
Short, curvy necklaces work best for this face shape in order to length the jaw and reduce the sharpness of the chin. Collar, choker, and princess styles are ideal and necklace styles that create a fullness at the throat will help to really compliment this face shape.
Diamond
Like those with an oval face shape, any length necklace will work with this shape. The important thing to keep in mind is to compliment the neckline worn and choose necklaces that are proportional to your body.
While these styles are suggestions to compliment your necklace and face shape, at the end of the day you need to be comfortable and confident with your jewelry choices. If you are in love with a piece and it makes you feel good, wear it!
Attention: This guide provides general sizing information only, and fit can vary depending on style and brand. For more specific sizing information on the product, please refer to product description.