There are two main types of most popular pearls, Akoya pearls and freshwater pearls. Water and environmental conditions play a huge role in the formation of pearls within clams. Therefore, factors such as the color and luster of the pearl depend on the type of water the clams are in.
What is Akoya Pearl?
You will find that one of the main differences between Akoya pearls and freshwater pearls is price.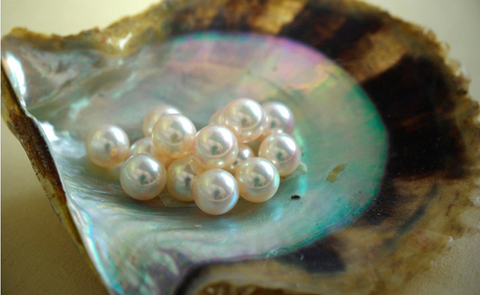 Akoya pearls are of course more expensive because mollusks are more fragile and more difficult to produce pearls.
They grow in the waters of Japan and are known for their perfectly round shape and more lustrous appearance, which makes them ideal for smaller pieces of jewelry or those with more detail.
The incredible luster and attractive round shape make Akoya pearls the first choice for many, but their attractive appearance comes with a heavier price tag.
What is Freshwater Pearl?
As their name suggests, freshwater pearls come from mussels that live in freshwater resources such as lakes and rivers, most of which are farmed in China.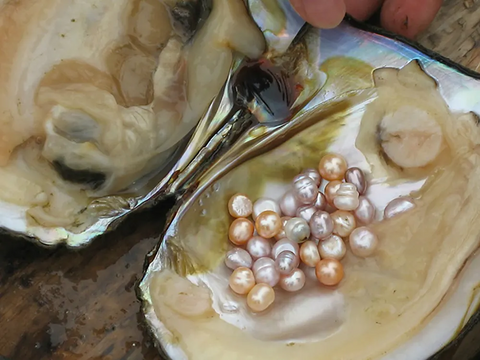 They are easier to produce, although they tend to be less perfect in shape and less lustrous than Akoya pearls. However, as farming techniques improve, it is possible to produce more lustrous freshwater pearls. So make them more of an opponent's match.
Another difference between freshwater pearls and Akoya pearls is that freshwater pearls tend to be more durable. Because of their harder coating, they are made almost entirely of nacre. 
Freshwater pearls also tend to come in more color variants if you're looking for a wider range.
Key Differences Between Akoya and Freshwater Pearls
Akoya pearls are a special variety of pearls produced in Japan and China. Freshwater pearls are common pearls cultured in ponds and lakes.
Akoya pearls are known for their brilliant luster. Akoya pearls have better luster than freshwater pearls.
Akoya pearls are mostly white with hints of pink and grey. Freshwater pearls come in different colors such as pink, lavender, yellow, etc.
Akoya pearls are very rare and therefore very expensive. Freshwater pearls are very common.
Akoya pearls are not artificially processed wt chemicals. Freshwater pearls are treated with artificial bleach and other chemicals to enhance their color and luster.
Akoya pearls are cultured in brine and harvested from oysters that live in the ocean. On the other hand, freshwater pearls come from freshwater mussels, which are found all over the world. The difference between these two pearls is not just their environment; it is also a matter of quality. Akoya pearls are considered higher quality because of their rounder shape, smoother surface, and brighter lustre than freshwater pearls. Also, Akoya pearl chains are generally longer and more consistent in size than freshwater pearl chains. 
Which Should You Choose? 
While Akoya pearls are naturally more lustrous and rounded, their price tag puts them out of reach for some.
Freshwater pearls are known to be more economical as they are less expensive to produce (due to their large size being able to produce multiple pearls).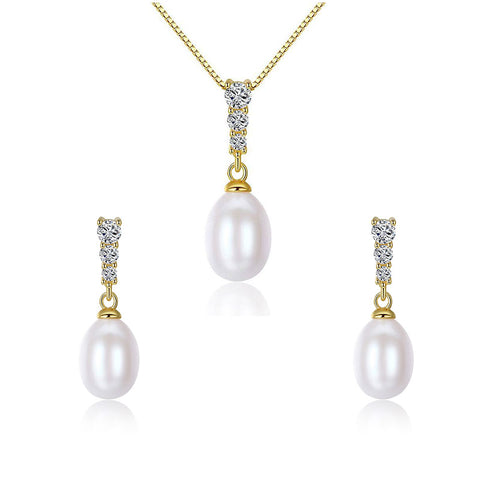 Freshwater pearls may not always have the perfect shape. However, new farming techniques are improving the appearance of freshwater pearls, making them a formidable competitor to Akoya. 
Whichever you choose, you can be sure you have something beautiful and special that makes for a truly eye-catching piece of jewelry. We can help you decide - email us.
Look at the 6 stunning pearl pieces we seleted from HER'S Jewelry, who specializes in providing elegant, classic and stylish pearl jewelry at affordable prices.
Pearl and Diamond Ring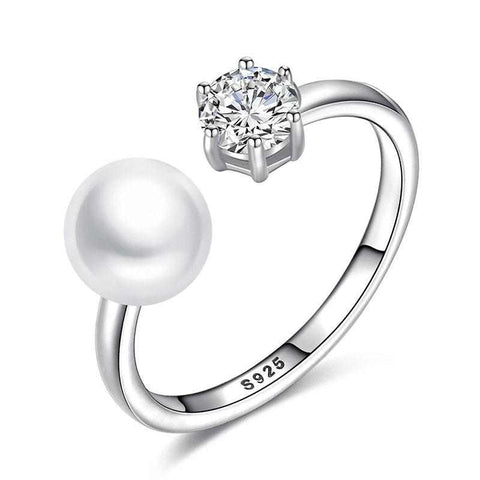 Intriguing and unique in design, this pearl and diamond ring features a single freshwater pearl ring that echoes the solitary diamond opposite, evoking the wearer's innate femininity. It's easy to fall in love with the enchanting beauty of pearls.
Double Freshwater Pearl Ring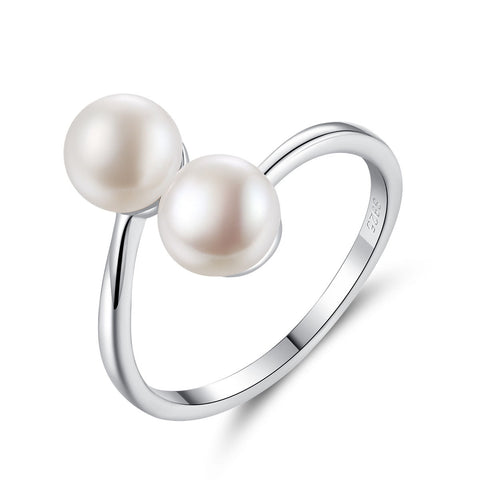 Two freshwater cultured pearls are elegantly placed between the bypass shanks, symbolizing the unity between two souls.
Pearl Bridal Earrings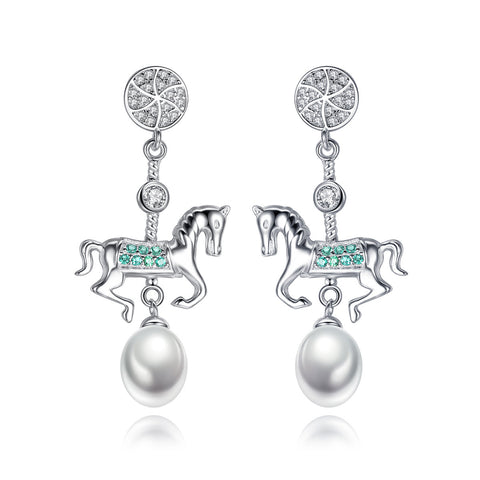 These earrings combine the classic elegance of freshwater pearls with a modern pendant design. Handcrafted to our exacting standards from the highest quality natural freshwater pearls and sterling silver, these earrings feature natural pearls at the base and a horse pattern in the middle, adding playfulness and vibrancy to the earrings and are the perfect addition to any outfit.
Moon Star Pearl Earrings
Brighten the brightest star in the universe with these sleek and modern Polaris Moon Pearl earrings featuring one earring designed with a beautiful starburst stud top and the other with a beautiful crescent around the small star on the lower end, paired with a classic pearl . They are the epitome of traditional style and accessories that will never disappoint.
Silver Pearl Necklace with Moissanite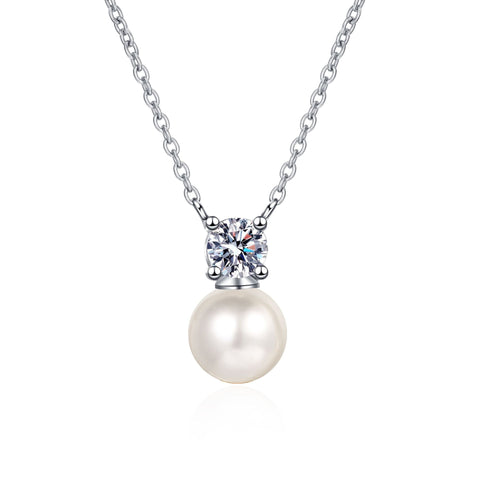 Crafted in silver, this pearl pendant is a delicate piece with plenty of sparkle. A freshwater cultured pearl is attached to a prong-set moissanite table suspended from a shimmering single bundle, adding extra sparkle to this elegant pearl solitaire pendant.
Pearl Beads Necklace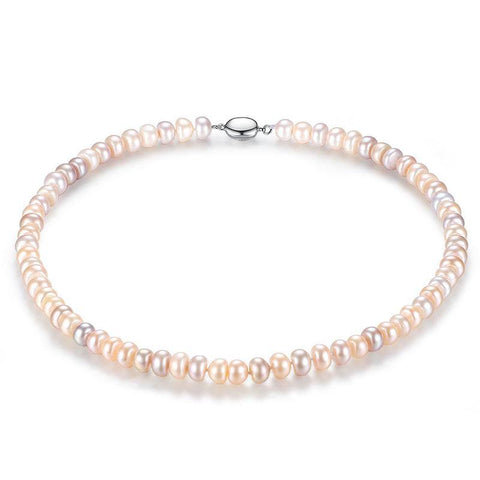 This freshwater pearl beads necklace exudes nobility, with an air of sturdiness and serenity. Designed to complement and enhance your favorite day and evening outfits, this beautifully crafted pendant is sure to be a welcome addition to your jewelry collection.