Moissanite is named after the French scientist Henri Moissanite, who was the first to correctly identify the mineral form of silicon carbide. Moissanite is brighter than diamonds or any other gemstone, and in fact, outperforms other gemstone s in many ways. Moissanite is a gem born from the stars.

Obviously, diamonds are a girl's best friend. So what makes moissanite? Commonly used to replace diamonds in engagement and wedding rings, this mineral has been a popular, cost-effective alternative for at least 20 years. However, some still think it's akin to a Ring Pop proposal. But if that's not your intention, moissanite is a great option to both save money and buy her a nice ring. Here's everything you need to know about moissanite for you to decide for yourself.
History

"Moissanite was first discovered in the late 1800's by Nobel Laureate chemist Dr. Henri Moissan at the site of a meteor impact in Arizona," said Sarah O' of Charles & Colvard, the premier and original manufacturer of moissanite jewelry Dea said. Moissanite (also known as silicon carbide) has a bright, shiny appearance and is actually very rare. But in the 1980s, a North Carolina company developed a process for producing moissanite crystals. Later, Charles & Colvard introduced moissanite jewelry in 1998, and it continues to be the trend of today's wedding accessories.



Birthstones and Anniversaries

Moissanite is very similar to diamond, but there are a few key differences, one of which is price. Given their similarities, while diamond is the birthstone for April, moissanite can be used as an alternative.

Meaning and Legend

Moissanite is one of the rarest minerals found in nature, and since it is found in meteorites, it is known as the "gem born from the stars" and is prized for its tenacious brilliance.

Quality Factor

A very important factor in moissanite is dispersion - the gem's ability to emit light, also known as fire. Moissanite has a very high dispersion (almost 2.4 times that of diamonds), making it the most popular diamond simulant.

Moissanite is also very durable - it is very resistant to cracks, chips and scratches, making it a popular choice for everyday use. High-quality moissanite will sparkle!

Hardness

Moissanite has a Mohs hardness of 9.25, while diamond has a 10. This rating measures the gem's ability to withstand scratches. 10 year old diamonds are very hard and durable. Since moissanite is a close second at $9.25, it's a great alternative to engagement and wedding rings as this gem can handle the wear and tear of everyday use.

Color

Classic moissanite is not colorless, but, depending on the size of the stone, smaller variants will appear. Therefore, we recommend using moissanite larger than 5MM, i.e. ½ carat moissanite or larger.

The luster of high-quality moissanite is equivalent to D, E, F color diamonds (some of the best diamonds known to man).

Heated, enhanced

Moissanite is a stable and heat-resistant material that can be heat-treated to change its color. Various options include light green, dark green, and colorless, but it can handle almost any color you choose.

Cut

Cut quality is very important for gemstones. The greatest light must pass through the stone and return. If the light disappears from behind, the stone will appear full and lifeless. Moissanite's high dispersity makes it the easiest stone to cut and has enormous firepower. Cuts should be clean and minimal, with no break points for moissanite, allowing for precise cuts every time. A perfectly cut moissanite produces a shiny and lively stone.
Clarity and Luster

All gems have some inclusions. In moissanite, tiny, transparent tubular inclusions can be found. The more inclusions there are, the lower the value of the stone.



Carat

Moissanite always produces the highest fire and has good color, clarity and cut. It's also a fraction of the price of a diamond. Therefore, moissanite can be selected in relatively large sizes to make jewelry, and the cost is quite economical.

Source

Natural moissanite is extremely scarce, so most of the moissanite used today is synthetic and lab-made.

Like any other stone, maintenance is key. Take your ring to a professional at least once a year - this will help keep your ring in top shape. An expert will deep clean the ring to remove any buildup under the gemstone and setting. You can also take care of your ring yourself at home using a mild detergent.

To keep your ring looking radiant, try not to play with stones. It's natural to want to appreciate your ring, but reducing the number of times you touch it will also help keep your rings from piling up.
How to Clean a Moissanite Ring
To clean moissanite ring at home, get a bowl of warm soapy water and use hand sanitizer. Hard cleaners are not recommended. Scrub lightly with a toothbrush and rinse.
Check out our article How to Clean and Care for Moissanite.
Where to Buy Moissanite Rings
Women's Rings are available at great prices all year round, so you don't have to worry about the timing of shopping gimmicks such as engagement, anniversary gifts and special sales. It's always the perfect time to celebrate love and life.

HER'S Jewelry has a range of moissanite jewelry at various price points with international GRA certificate. When shopping on our site, you can be 100% sure that your order will pay the most attention and attention from start to finish. Below we have selected some of the latest moissanite ring styles you may like.
Elegant and refined, this delicate moissanite radiant cut ring elevates your center stone with a sparkling prong setting for a captivating brilliance. Its diamond-set strap deftly directs your eye to a shimmering halo that is subtle yet eye-catching.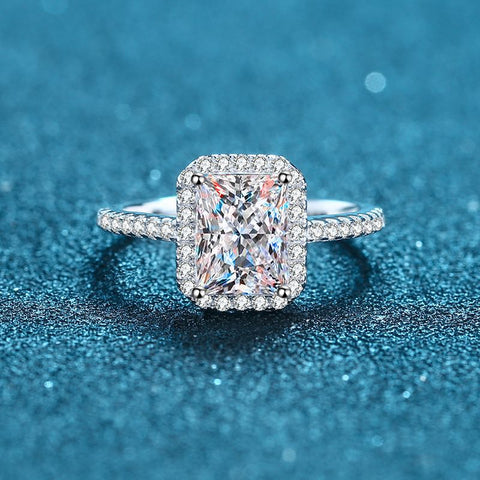 Show her love and devotion with this sparkling radiant cut 3 stone moissanite ring. Sparkling with bold brilliance, this elegant design showcases a sparkling radiant cut moissanite in the center, while two smaller triangle stones flank the center stone for extra brilliance. All stones shine enough to be worthy of being a symbol of your love.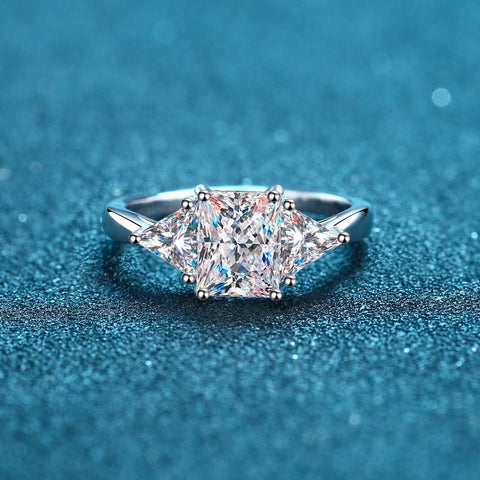 The definition of a timeless classic. Elevate your center stone in a luxurious setting with a raised band set with diamonds. Nestled firmly in the six claws, this emerald cut moissanite ring will provide a shimmering glow.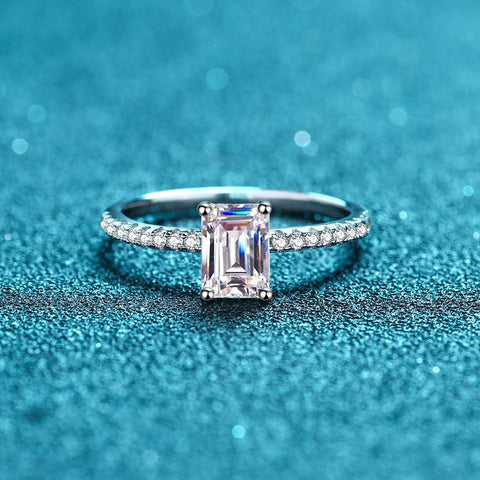 A retro take on our classic oval moissanite ring design. Elevate your center stone in a luxurious setting with a raised band set with tiny moissanites. Nestled firmly in the four claws, youroval ring will provide a shimmering glow.
The pear-shaped ring showcases brilliant brilliance and a vintage feel, a pear-shaped moissanite is surrounded by a shimmering halo and below is a crown of 7 small marquise-shaped moissanite stones for your The hand offers extra luxury and elegance.